Becoming an Employer of Choice allows employers to:
Build Sustainable Community Impact
Attract Talent
Showcase Commitment to Diversity
Hire WBF Graduates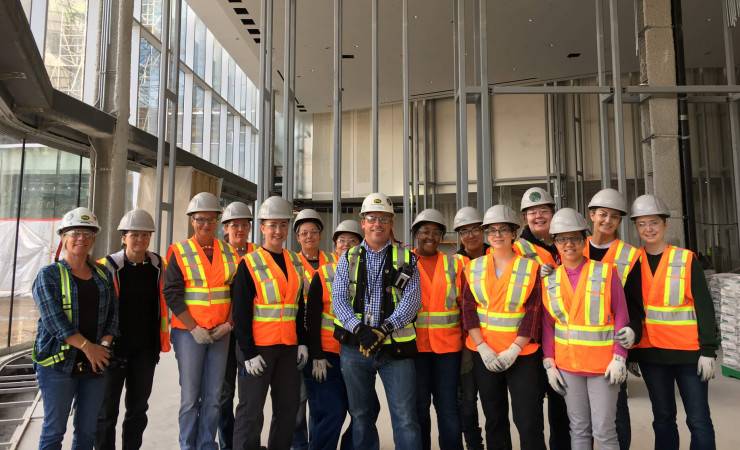 To become an Employer of Choice, companies must meet a minimum score on an assessment of their internal Diversity, Equity and Inclusion (DEI) practices in 4 main value areas:
Health and safety — actively ensuring safe workplaces and promoting a strong safety culture
Respect and inclusion — creating and cultivating work environments that allow all employees to feel valued, respected and included
Equity and gender — actively examining and identifying barriers to diversity in the workplace
Growth and advancement — actively promoting training and advancement opportunities for staff at all levels of the organization
The first step of becoming an Employer of Choice requires you to complete a self-assessment. This free online self-assessment allows you to reflect on where your company is on its diversity, equity and inclusion (DEI) journey to provide safe, equitable and inclusive workplaces for all staff.
Your assessment score is a determining factor in your company's eligibility to hire Women Building Futures (WBF) graduates.
We will review your assessment to see if your current practices make you eligible for the EOC membership or to hire WBF graduates.
We'll contact you to let you know your results. If you qualify, we'll also give you information on Employer of Choice enrollment and about hiring WBF grads.
If your company does not meet the minimum score, we'll provide you with introductory resources and suggestions to improve your DEI practices. We'll stay in touch with your company throughout this journey, and once you're ready, you can apply again.
If your assessment meets the minimum passing score, you become eligible to hire WBF grads. You will also be offered the chance to officially become an Employer of Choice. Let us know what you decide.
Full membership
If you'd like to become an EOC member, you'll get full access to hire WBF grads and alumni, plus all our member benefits (annual membership fees apply). If you choose to become an EOC member, we'll send you a membership agreement to sign, along with details about your term and fees.
Hiring potential only
If you decide your organization only wants the potential to hire WBF grads, the opportunity will be open to you — but only if there are more job seekers than positions offered by members. There is no cost for this limited access — and if you decide you want to become a full member, you're welcome to join. If you decide to join within a year of submitting your assessment, you'll be admitted directly. If it has been more than a year, you will have to do the assessment again.
Once you've signed the agreement and paid your fees, your 3-year term begins and you're ready to start enjoying the valuable membership benefits.